2023 Elan Voyager Pink
Add to cart
2023 Elan Voyager Pink
Product description
2023 Elan Voyager Pink
The new Elan Voyager is the world's first high performance, folding, all-mountain ski. On one side very convenient to carry as it folds under 1m. On the other side will the Voyager happily tackle anything a demanding skier can wish from a ski, without compromising a single bit of a performance.
ULTIMATE TRAVEL COMPANION
Plane, train, or automobile, no matter how you access the mountains, Voyager fits your adventure.
Voyager is a highly innovative product that Elan focused on for the last three years. It proves that Elan is still one of the leading brands in innovation among the ski industry. Voyager is the first fully functional alpine folding ski, that carves the groomers like a race piste ski and handles any terrain with ease. Elan's revolutionary Connect Tech has made folding skis easy and efficient for transport without sacrificing performance on the slopes. This innovative technology is so good, that even the most experienced skiers' minds were blown away when we showed them the ski folded after they skied them. Elan's unique Amphibio Profile, Laminated woodcore, and RST sidewall guarantee the performance you expect from Elan, while a specially designed Fusion plate and Connect Tech structures are integral to skis' performance, while still allowing it to fold.
Advanced - Expert
If you enjoy hitting the biggest features in the park, aggressively carving high speed precision turns, and taking the steepest lines you can find, you will probably benefit from the features of an advanced - expert ski. These skis will be engineered with power, stiffness, and rigidity in mind. You will likely find layered construction with materials like carbon, metal and stiffer woods.
Frontside Skis
These high-speed carvers will typically have a narrower waist with a full camber profile; maximizing edge grip. Many of them will also have an integrated binding system organic to the ski. If you spend most of your time rocking it on the groomers, these might be right for you.
Amphibio (Elan Specific)
Elan's Amphibio technology is a hybrid rocker profile that splits camber and rocker between the inside edge and the outside edge of the ski, respectively. The full camber on the inside gives the skis precision edge grip while the rocker profile on the outside edge aids transition in turns, also providing float in deeper snow.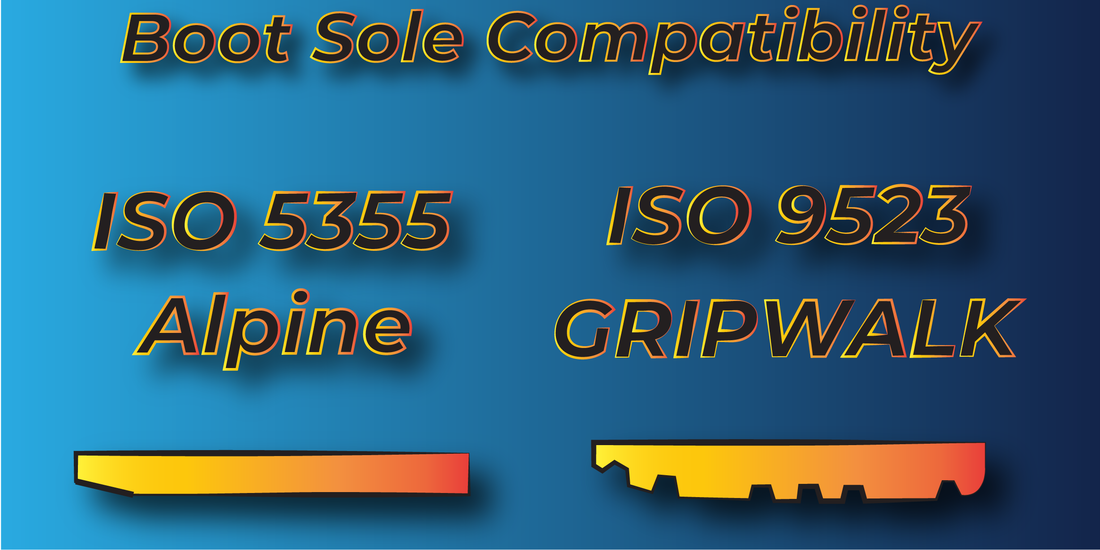 The EMX 12.0 GW FUSION X Binding can adapt to a wide range of boot sizes, from 259mm to 382mm. 
System Skis with Integrated Bindings
Skis that include integrated binding systems can be adjusted to most adult boot sole lengths and are compatible with Alpine (ISO 5355) and Gripwalk (ISO 9523) soles. These bindings will not come mounted; always have a qualified technician inspect your boots and bindings before they install, adjust, and function test your system. 
The DIN (Deutsches Institut für Normung) scale on your bindings is the ski industries' adjustment range for the release force settings on your skis' bindings. This number will be determined by your age, weight, height, boot sole length, and your skier type (I, II, or III; not your skier 'ability'). This setting should always be adjusted by a qualified technician after a visual/tactile inspection and function test.
*If you're unsure if your boots and bindings are compatible, please have a qualified technician give them a tactile and visual inspection.

Any questions about this product?
Related products

Any questions about this product?
Recently viewed
Choose your language
Choose your currency
Recently added
Order for another $0.00 and receive free shipping
Review Elan 2023 Elan Voyager Pink